And now for something completely different! Let's take a little break from Knits That Breathe (maybe I should call it a "breathe-er"…?) to review a book by one of my fellow Visionary authors.
What do the Blue-Footed Booby, the Kiwi, the Puffin, and the Chicken have in common? Besides the obvious, that is. While it's true that all of them are birds, that's not the answer I'm looking for!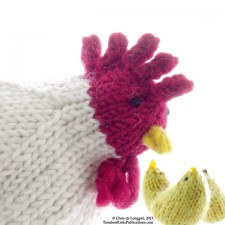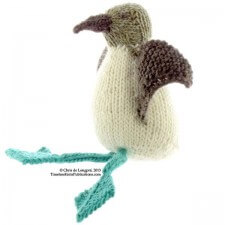 Answer: This menagerie of adorable knitted creatures is featured in Chris de Longpré's newest release, 52 Timeless Toys To Knit . Another treasure from her independent press,  Timeless Knits Publications , this is a volume knitters will definitely want to add to their personal libraries.
The book's front section provides thorough explanations of the necessary materials and equipment (even down to the preferred type of stuffing), the stitches, abbreviations, and techniques, and illustrations of the embroidery embellishments used to give the toys their many special details.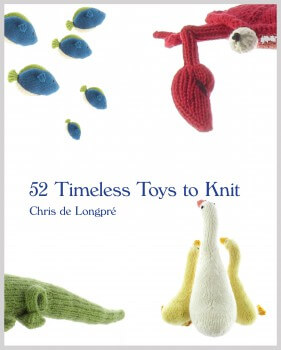 Because they require only small amounts of yarn, the toys can easily be worked from remnants of yarn left over from larger projects, and of course they make terrific stash-busters. Divided into nine sections that identify either the land of origin or the species represented, 52 Timeless Toys To Knit includes an impressive variety of animals including those from: Down Under, Flock, Heartland, Midnight Sun, Reef, Serengeti, Southwest, Wetlands, and Woodland. And at $29.95 retail, the book is an excellent value at less than a dollar per pattern.
One caveat: I'm not a toy knitter. In general, I'll admit I'd rather wear my knitting. If I had a few free hours and some random but compatible scraps of yarn, it would never occur to me to knit a toy with that time and those scraps.
Until now.
Even I – with no small children to knit for, and no grandchildren (so far!) – am completely enraptured by the projects in Chris's book. These wonderful, whimsical toys have such incredible details and provide such tactile and visual pleasure to all who see them, it quickly became obvious that I'll have to make several to keep on our coffee table for guests to play with.
Close examination of the individual projects reveals a wealth of detail:
The beaver has a flat paddle tail and long white teeth made for chipping away at wood, and the walrus has his pearly white, curving tusks.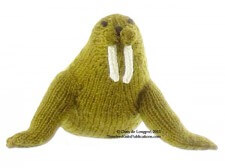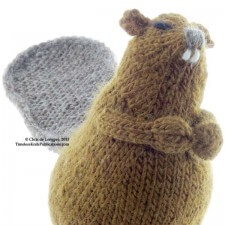 Let's take a closer look at the turtle, one of my particular favorites: his head and legs can be drawn up into the shell, just as a real turtle would do when startled.
Then there's the crab, with its bulging eyes and articulated claws: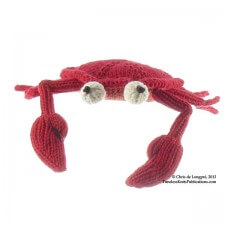 Another sea creature that caught my attention is the starfish, with its lifelike spiny bumps:
Back on dry land for a moment, consider the armadillo with his ridged tail and leathery armored back: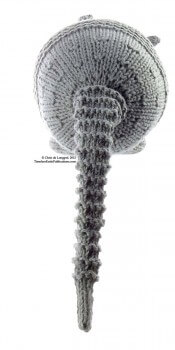 My other favorites include the flamingo and the lizard, both of which are colorful, bendable, and have a kind of goofy realism that pleases the child in all of us: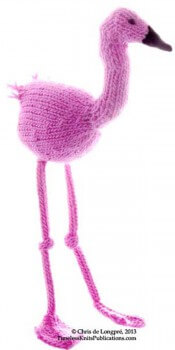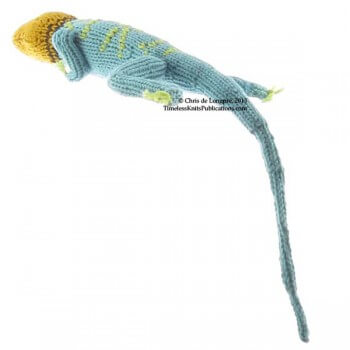 Finally, consider this family of owls: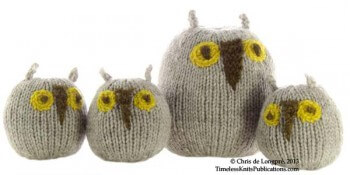 I can already tell that their sheer adorable-ness will be my gateway to toy knitting. With my stash and needles at the ready, 52 Timeless Toys To Knit will get quite the workout. I may as well leave it permanently in my knitting bag, because I have a feeling that whenever I complete a larger project, my next one will involve one of these toys.
The book is available through Amazon and at fine yarn stores through Unicorn Books & Crafts, Brown Sheep Company, Notions Marketing, and Knitting at KNoon Designs. A digital download version should be available at the end of this year. For convenience, it may be divided into nine shorter e-books, one for each of the chapters in the book.