Pochette (poe – shėt, from the French for "little pocket") has long, lean lines with gentle set-in waist shaping that accentuates, yet skims gently, over a woman's curves. Its airy sheerness looks beautiful worn over a camisole, but maintains its cool breathability when knitted up on US Size 5 or 6 needles.
With elbow-length sleeves, a flattering V-neck and color-blocking to add visual interest, this tunic goes from the office to a night out with ease.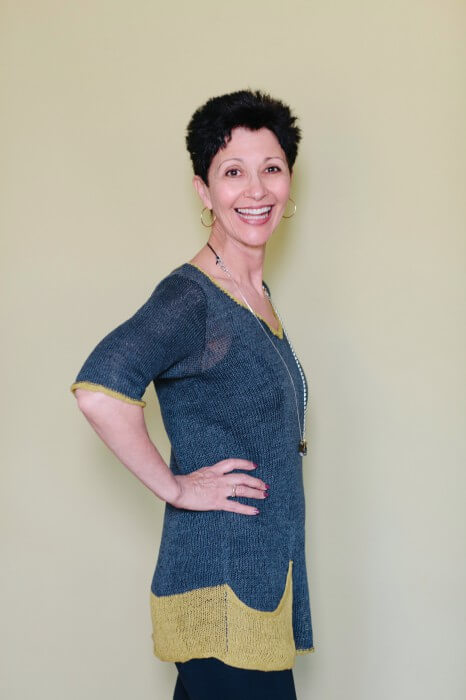 Although it's elegant enough to wear with a long, minimalist necklace as shown here, Pochette would also be spectacular with a patterned silk scarf draped around the neck.
Curved pockets grow out of the color blocking, and are achieved with Short-Row shaping. To my eye, the colors "Apple" and "Tar" sang in perfect harmony when combined. I love this serious shade of gray next to the chartreuse; each color becomes its best self when edged with the other.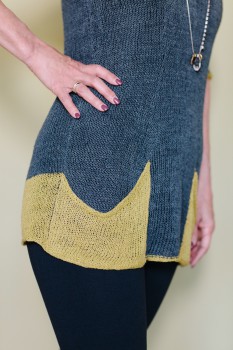 The lovely linen yarn used in this project is Shibui Linen. Softer than your average linen, it nonetheless has the lovely dry, crisp hand that we associate with linen fiber. Airy and light, this is a quintessential summer yarn, with a unique chain ply structure that is an absolute dream to work with. Never splitty or rough on the hands, it slides through the fingers and has just enough texture to stay put on the needles.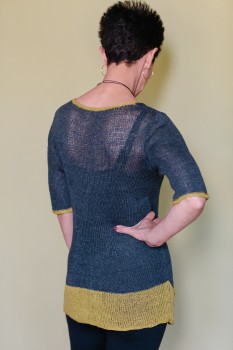 While the tunic is a natural over leggings or jeans, it would dress up beautifully worn belted over a long, floaty skirt.