Sometimes I like to pretend that I have a long, lean, and elegant figure. For those occasions, I need a garment that perpetuates the fantasy successfully enough that it becomes a temporary reality. That's when I pull Zephyr off the closet shelf and shimmy its silky softness over my head and shoulders.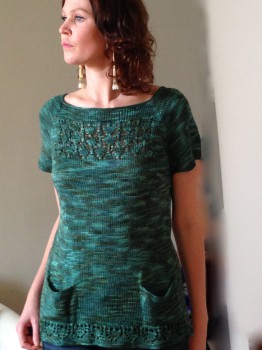 Other times I just want to stride out into the world without a purse. For me, going purse-less is a bit of a novelty. Not that I carry one of those gigantic designer bags. You know the ones I mean; they're so big the bearer could easily run away from home with nothing but that bag's contents in hand.
No, not me. I prefer a tiny, cross-body bag that holds the essentials and nothing else. Still, there are times when even my littlest cross-body bag seems like an imposition. And for those times, I want pockets. That's also when I pull out Zephyr.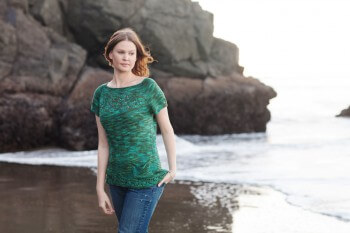 On really hot days when I need to exude an attitude of organized competence (oh, and not sweat my way through meetings), I reach for Zephyr with its delicate lace motifs, short sleeves, and the subtle sheen of its silk and bamboo fiber to keep me comfortable. The cool touch of this fabric against my skin works wonders.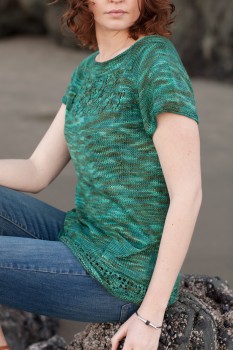 I was fortunate to have the opportunity to work with Lorna's Laces Pearl yarn for this project. It was a lovely choice…the teal, aquamarine, forest, and emerald variegation in the color #1111, The Skyway, mimics the ebb and flow of waves on Lake Michigan on a windy day.
Sumptuous and special, the 51% silk/49% bamboo blend offers the sheen of silk and the wonderful soft drape of bamboo. Available in Lorna's Laces' entire palette, it's a treat – and with 220 yds. per skein, only a few skeins are needed to make Zephyr your own.