Flutterbye was, more than some of the other designs in Knits That Breathe, a true synthesis of design concept and yarn characteristics. Over the years I've made shawls and wraps from Sundara Yarn's Silk Lace, and thus was already familiar with its behavior. I knew the finished design would have beautiful drape, that it would offer blissfully cool comfort to the wearer, and that it would gleam gently whenever light shone upon it.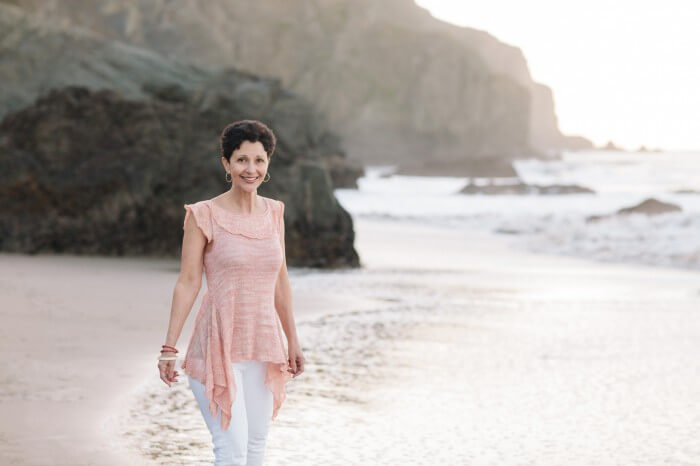 As a fan of the handkerchief hem in other garments I own, the yarn seemed to cry out for this design element – it needed that fluttering, wispy, feminine quality that gives the tunic its wonderful movement and makes the knitter feel beautiful every time it floats over her body. And although I'm not prone to adding ruffles to my knitting (In fact, I've been known to call ruffles, along with puffed sleeves, "infantilizing"), Silk Lace seemed to warrant just the slightest waft of extra flutter.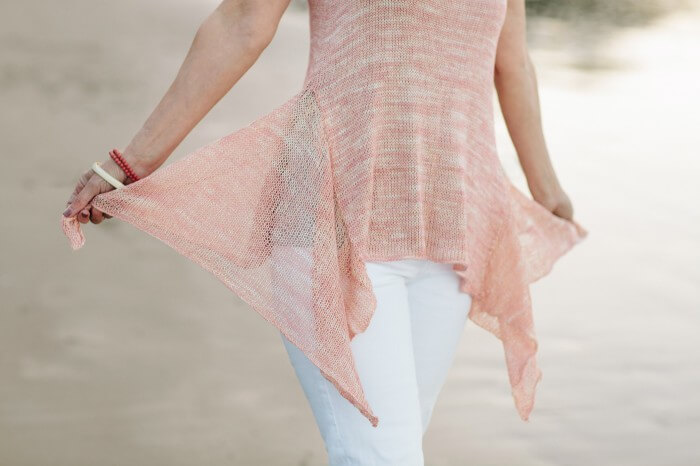 The ideas I sketched for the project evolved slowly into Flutterbye, which incorporates all the elements I've mentioned above as well as its own ineffable grace.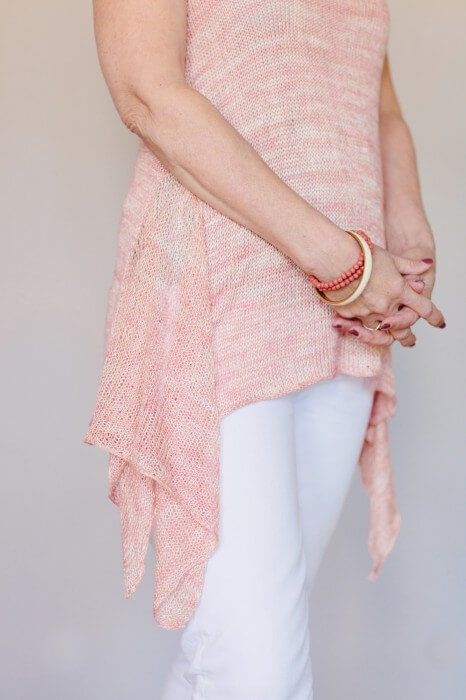 The word "scintillating" must have been invented to describe Sundara Yarn's Silk Lace, because its delicate strength and shimmering lustre (or is that lustrous shimmer?) are the very embodiment of the word. Making Flutterbye with Silk Lace was the ultimate pleasure because every inch glides through the fingers like a sigh.
Rich color absorption by the silk renders a pleasing palette of semi-solids that range from bold to delicate. You can't go wrong. Sundara is a color magician with such nuanced mastery of the dye-pot that she achieves amazing depth and brilliance in every skein.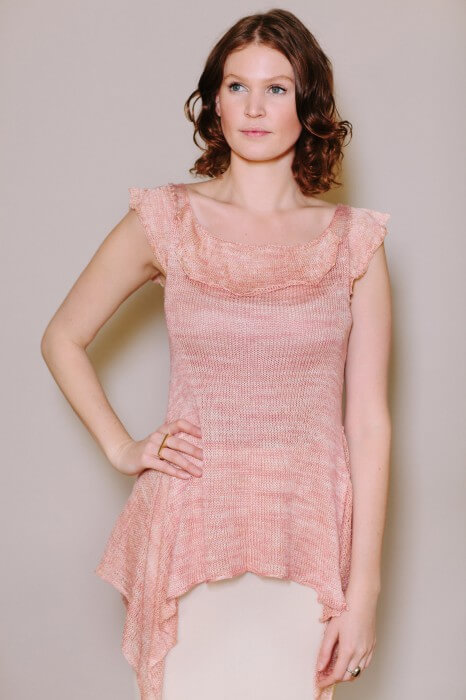 If there's one single tip I can pass along about Flutterbye and the Silk Lace yarn, it's that a loose cast-on and an even looser bind-off will help you achieve the desired result for your finished garment. The silk fiber has no elasticity, so although the tunic itself has some horizontal give as well as plenty of drape and motion, this is not achieved with any assistance from the actual yarn.
I'll be at TNNA in Indianapolis over the first weekend in May to promote Knits That Breathe. I hope to see some of you there, and look forward to reporting back upon my return!