Friends of ours had a baby last week – a little boy. As if I needed an excuse, I whipped up a little something because, well,  I love knitting baby gifts. They work up so quickly!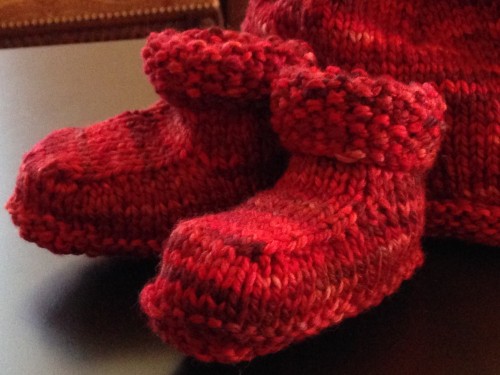 They're so adorable! So tiny! Ergo, they use so little yarn… making them perfect stash-busters.
And this yarn from Black Bunny Fibers, a hand-dyed worsted weight from my friend Carol Sulcoski, is the perfect mix of cheerful but not too sweet. The most accurate color example is in the top photo; a true crimson with bits of burgundy scattered throughout.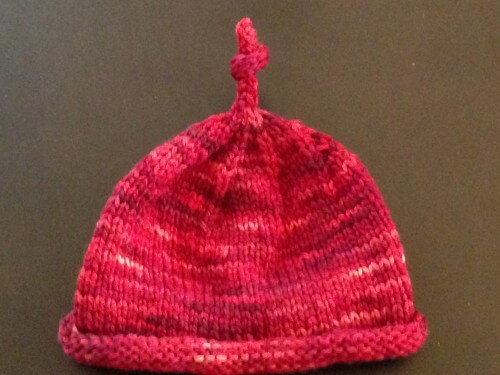 I'm a sucker for that little I-cord fillip at the top of baby hats. It's cute, but not as gimmicky as hats with ears (although they can be mighty cute, too!).
Most of all, knitting baby gifts reminds me to be grateful that I'm not the sleep-depraved deprived one changing diapers and trying to function through the fog of baby-brain (Although, secretly, it does make me just a tidge nostalgic for my daughter's own infancy. She was such a little peanut.).
Do you have a favorite baby gift to knit? What is your go-to hat pattern, bootees, or baby blanket? The bootees you see above are from 50 Baby Bootees to Knit, by Zoë Mellor. There are some wonderful, quick patterns in her book – well worth adding to your knitting library shelf if you don't already own it. The hat is probably one of the most basic designs in existence, and I love it for two solid reasons:
~ it never fails to please the recipients, and
~ it can be embellished and modified in limitless ways, so it's really never the same hat twice.
I worked it up using Ann Budd's Knitter's Handy Book of Patterns for the template.