But before I get all wound up, I've got to show you the second version of the Gyroscopic Cardigan, expertly modeled by my photogenic friend, Suzy: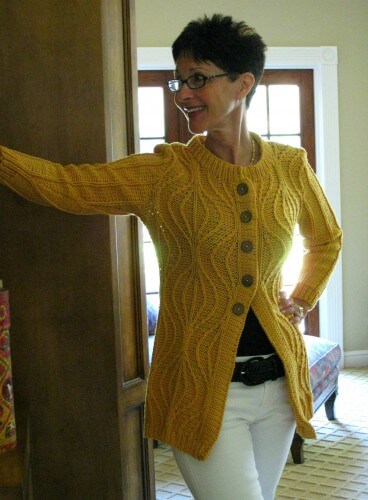 Isn't the color gorgeous? I adore how it shows off the Gyroscope Cable motif. My test knitter, Glenna, did a fabulous job with all the details.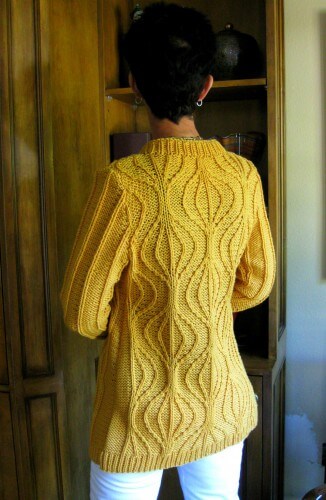 The pattern is with my tech editor now, and should be ready for launch within the next week!
OK, ready for the rant? My daughter was home from college from mid-May to mid-June, during which time we scheduled her a series of personal health "tune-ups" — a cleaning at the dentist, a visit to her primary care doctor about that wonky hip that bothers her when she exercises, and finally an appointment to the optometrist at our local LensCrafters.
I come from a long line of squinty-eyed, glasses-wearing myopics and not surprisingly, my daughter has inherited my less-than-perfect vision. She gets her eyes checked annually, and her vision seems to change every time. What I have noticed about "our" LensCrafters is that it is impossible to get out of there in less than two and a half hours EVER.
Yes, it takes 15 minutes for the pupils to dilate after they put those drops in. I get that. And we've learned to schedule our family's appointments first thing in the morning so they don't have time to get backed up. That should help, right? Emphatically, that answer is – No.
No, this shop runs consistently behind schedule, EVERY time. This visit, my daughter brought a book and I brought my knitting, so we were prepared to settle in for the usual wait. But my daughter's appointment time came and went, and half an hour later the optometrist with whom she had her appointment had not even shown up to work.
What is going on here? Does LensCrafters HQ never check on their individual stores to make sure they are being run efficiently? Do they seriously believe it's ok to leave their customers milling around for hours, listlessly entertaining themselves by trying on one pair of frames after another as the day ticks by? Whatever happened to sticking to the schedule? Why are customers expected to be on time for their appointments, but LensCrafters' (and many – if not most – doctors as well) employees are not? Do they not get that they are in a service business, and that their customers deserve that service in a timely manner? Is this any way to run a franchise? I could go on and on (and on), but I think I've made my point.
As we sat and fumed, I suddenly remembered that a new LensCrafters had opened recently in the next town. I stormed up to the counter, and (politely) demanded of the hapless store manager behind it that our entire family's records be faxed over to the new store. Further, I stood over the poor guy (after all, it wasn't his fault that the optometrist hadn't appeared) while he phoned the other LensCrafters and scheduled an appointment for my daughter ASAP. I made it clear that we would never EVER be back (was that an expression of relief I saw flitter across the manager's face…?), and that was that. We were outta there.
By the time we arrived at the new LensCrafters fifteen minutes later, they were ready for my daughter's appointment. Our records were there, her appointment progressed speedily, and we were on our way with her new-prescription contacts in less than an hour. Sometimes taking one's business down the road is the only answer.
It was so worth it.