Tuesday evening's Brave New Knits signing and trunk show at Katonah Yarn in New York was great fun, and everybody enjoyed seeing the book's projects "in person," commenting (not surprisingly) that they look even better in real life than they do in the book's pages.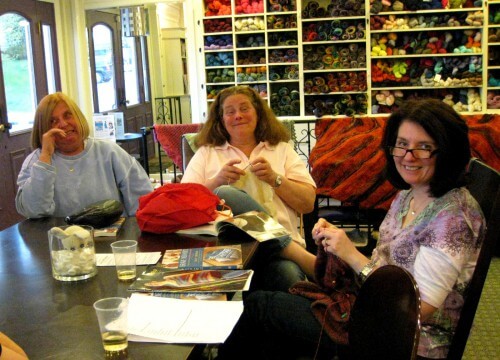 Katonah Yarn has all the best qualities of a wonderful yarn shop: it is bright, spacious yet cozy, full of beautiful yarns temptingly displayed, and staffed by a pair of lovely women who smilingly offer assistance to one and all. Jennifer, Rae, and staffer Dani made me feel very welcome at their regular weekly "knit night," when they stay open late and a group of knitters works on their projects, chatting all the while.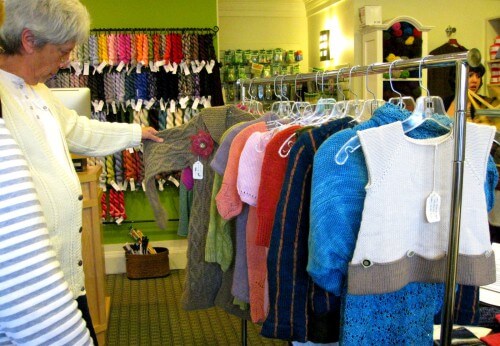 Some customers tried on every single project, and found that even the ones they'd been iffy about looked great on them.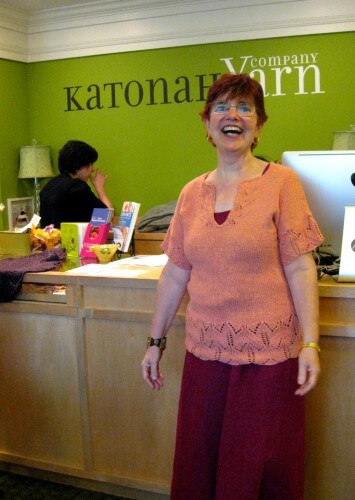 The shop's apple green wall color was practically a match to the Sundara Silk Sport I used to make my Orchid Thief Shawlette from the book, and Rae's version in a gorgeous worsted weight merlot colored wool was in beautiful contrast.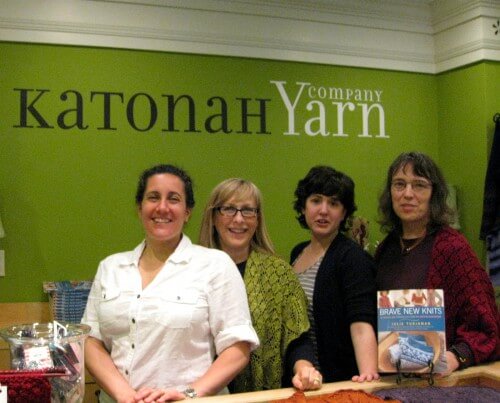 (Owner Jennifer, me, Dani, and owner Rae)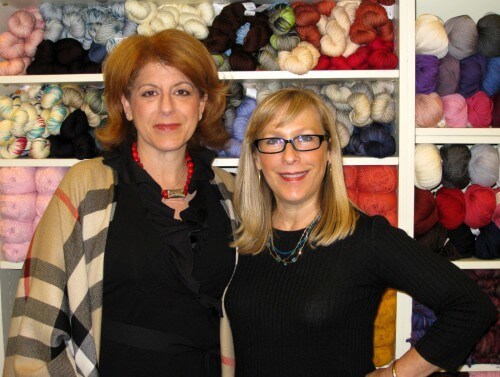 A fantastic surprise was seeing my high school friend, Joanne, with whom I reconnected on Facebook last year. She lives in the area, and although she is (sadly) not a knitter herself, she attended the signing with a knitter friend.
OK, not to be a scold, but I'm going to get up on my soapbox for a minute here to share my thoughts about something that happened at the event. A young woman came into the shop and tried on all the projects from the book. Then she began surreptitiously photographing all of them, as well as the labels that identified the yarns used for each. Simultaneously, she was on her phone with a knitter friend who had not been able to join her. The owner eventually asked her to stop photographing the projects, and she did.
This woman spent the rest of the evening at the shop, making a dinner out of the lovely refreshments that the Katonah Yarn owners had been kind enough to provide for the event, and chatting with the other knitters. When she finally departed, she did not purchase a copy of the book, or as much as a single skein of yarn, or any notions.
For all I know, she had already bought Brave New Knits on Amazon or from another retailer. Or perhaps after all the effort of sneaking photos of the projects and their details, she decided she didn't like them enough to make some herself after all. Sometimes one has to look through a book at length and see the garments up close to make that decision. Maybe she couldn't afford to add another knitting book to her personal library. Or maybe she had taken enough photos of the pertinent details to be able to reproduce the projects she liked the best without the benefit of the actual patterns. Who knows?
I just wonder what was going through her head. Though I would like to give her the benefit of the doubt, her behavior seemed clueless at best, and unconscionably rude at worst. The owners were upset that this "customer" seemed to think it was appropriate to photograph the book's projects. They never mentioned the fact that she did not ultimately purchase a copy; it was my observation. And there's no law saying she had to make the purchase. Fortunately, several customers did buy the book as well as yarn to make their first projects from it.
Jennifer and Rae are small business owners; they have kept Katonah Yarn open for five years, which means they survived the worst of the economic downturn in 2008-9. They are established in their community, and as I said earlier, you couldn't ask for a nicer LYS. It upset me on their behalf that this young woman would think it was okay to spend the evening at their shop, eat their food, try on all the projects from Brave New Knits, take numerous pictures of them, and then not buy a copy.
Where I come from, we have a name for people like this: a Schnorrer, which is someone who takes advantage of the generosity of others; a parasite. Perhaps this woman was simply in the market for an evening of free entertainment, and she certainly made the most of it. But I don't like what her actions say about her lack of respect for Jennifer and Rae and their efforts to keep their business running and successful. What do you think?