But we have a winner nonetheless.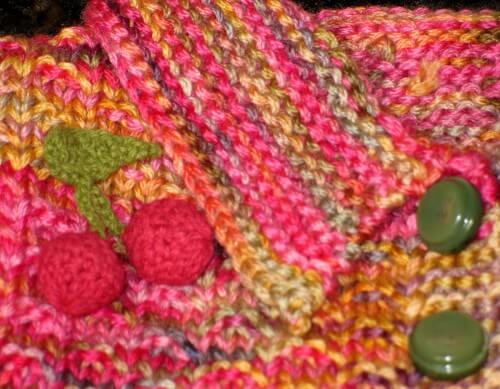 Down to two options (nobody seemed to care for the clear cut glass buttons), the brass bunches of cherries or these green resin ones, I finally settled on the green.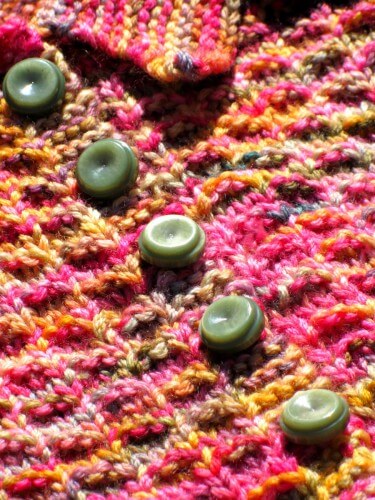 The brass ones seemed like overkill once I decided to applique the little crocheted bunches of cherries to the fronts of this cardigan. And the green ones, in their simplicity, do not detract from the crocheted appliques in any way. In addition, I really like the way they pull the green out of the variegated yarn; they keep the pinks and lilac colors from overwhelming the knitted fabric.
So thanks to all who weighed in with their choices. It helped, it really did!
In and around the garden over the weekend, the ranunculus continued to glow in that amazing saturated golden color, catching my eye every time I pass them.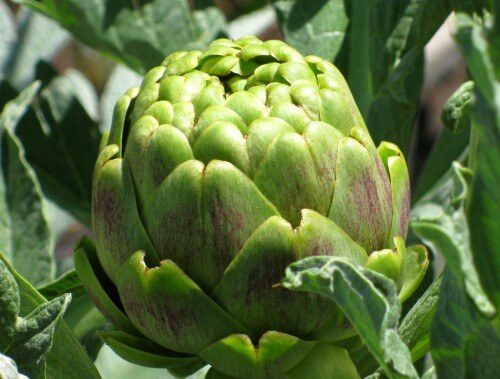 To my amazement, the first of the artichokes are already up in the vegetable garden. They seem really early this year! Because we have so few of the plants (they take up a LOT of space in the raised beds, and I had room to plant only 5 of them), and they seldom ripen all at once, there are never enough of the large globe ones for everyone, and often just a handful of the secondary babies. Rather than fight over them, I buy a package from Trader Joe's to supplement those from the garden, and that way everybody is happy at dinner time.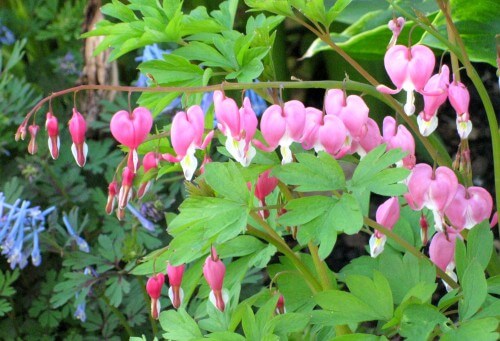 Of all the old-fashioned flowers planted in the garden, I confess that these bleeding hearts are among my favorites. Not only are they gorgeous in a delicate way, bu they return year after year.
And now to plot out my evening, the highlight of which will be the first episode of the new Upstairs Downstairs (yes, I miss that comma from the original series, too.) Having watched all of The Cazalets (based on a wonderful series of 4 novels by Elizabeth Jane Howard), and now working my way through the DVDs of Lark Rise to Candleford – both charming period drama series that serve to enhance an evening's knitting – I am ready for a fresh, new series to begin.