If I'm behind on posting photos of the latest Brave New Knits signings, it's because I'm in transit yet again. But last week was a welcome respite because I got to do a few signings in the Bay area. What a treat to be able to get into my car, drive to the event, and then drive back home!
In addition to the fabulous San Francisco shop ImagiKnit, I had the great good fortune to hold a trunk show at Sile Convery's premier crafts space Knit-One-One in Berkeley. Joining me there was Julie Weisenberger of Cocoknits fame. Her adorable child's tunic, Button, is one of the book's many popular projects.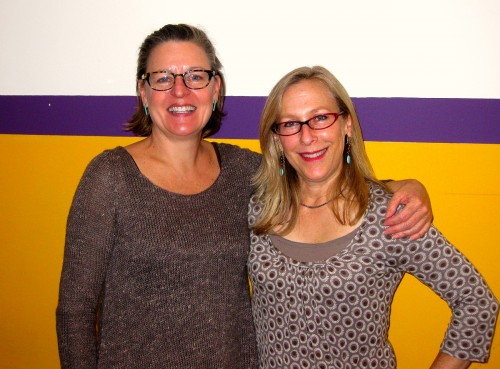 Julie, when you gonna write up the pattern for that sweater you're wearing? I want it bad!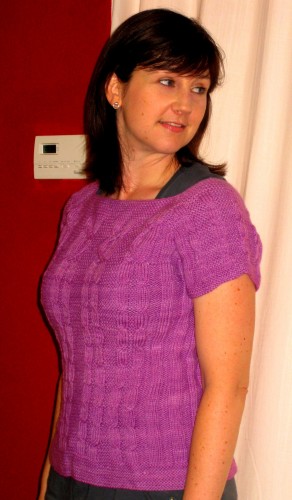 Judi (a new transplant to San Francisco) really rocked Stefanie Japel's Waves Pullover.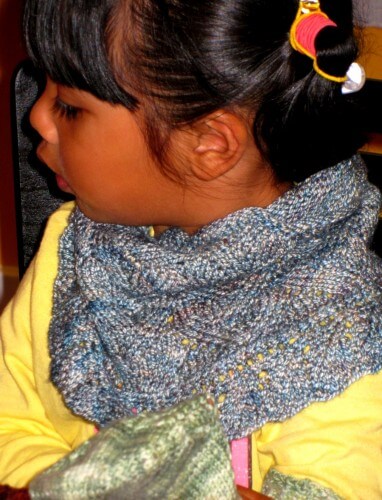 This little angel was especially fetching in Anne Hanson's Hydrangea Neckwarmer.
And some visitors just couldn't try on too many items at one time!
Nine Rubies Knitting in San Mateo hosted me last Sunday, and had a great group of knitters there for their regular Sunday afternoon gathering. Saloni and her mom Sudha run the shop and had knit up a few of the book's projects as store samples. They made me feel so welcome!
While I was there, it was really fun to discuss internet resources for knitters; some members of the group were more comfortable than others with all the options that are out there for our community, so it felt good to spread the word!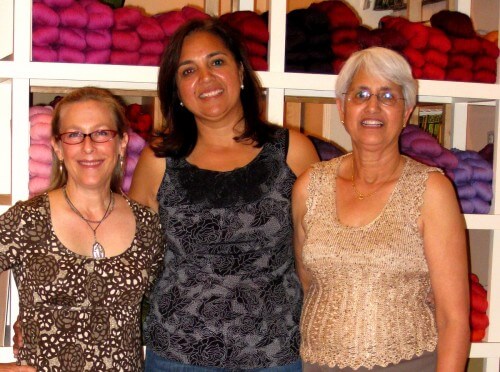 Fellow Bay area designer Brenda Patipa also stopped by – we were already friends on Ravelry, so it was really nice to meet her in person.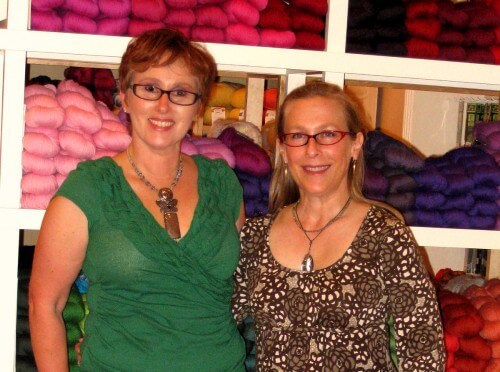 Nine Rubies employee Hannah (Hannahart on Ravelry) proved once again that when you include an informal "Project Runway" as part of a signing, you just might sell more books!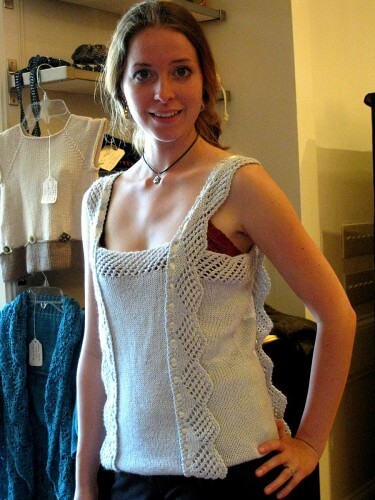 She looked great in everything she tried on, and Jordana Paige's Delysia (above) and Shannon Okey's Silke (below) were just two examples from the many she wore.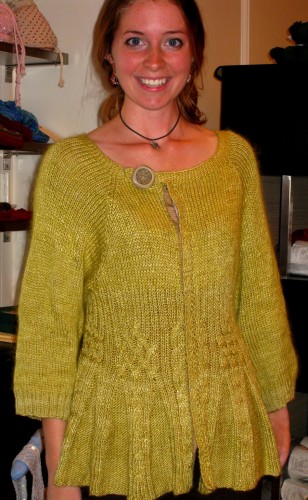 Both venues were fabulous. And did I mention how great it was not to have to get on a plane in order to do them (I guess this means the rock star/road warrior life is not for me – too much of a homebody)?