Or should that be reading while knitting?
A group of us were sitting around the other evening talking about knitting (what else?), and one member of the group asked if anybody had figured out how to read a book while knitting. Now, most of us already watch TV while we knit and don't think anything of it. Easy-peasy, right? But reading seems to require a whole new level of multi-tasking proficiency. It turned out that I was the only person sitting around that table who has been known to read and knit simultaneously.
Here's my secret:
In a word: Stockinette. In another word: Garter. If the knitting project on my needles is worked predominantly in either Stockinette or Garter stitch, I am perfectly capable of reading a book at the same time – probably because I could do those two stitches in my sleep, so reading doesn't feel like much of a stretch. Anything more complicated or demanding such as cables or lace, however, and I have to close the book and concentrate on the knitting.
The miraculous thing about knitting a long stretch of Stockinette or Garter while reading a good book is that by the time I finish a chapter and take a look back down at my knitting, a huge amount of progress has been made. It always astonishes me that the muscle memory in my hands can take over like that. Makes me wonder what else my hands might get into while my attention is elsewhere… such as the cookie jar, the chocolate stash, etc.
The Single Most Important Tool for Reading-While-Knitting Success:
In my opinion, this simple hands-free bookmark is your insurance policy against books that seem hell-bent on slamming shut all by themselves, thereby losing your place just when you were getting to the good part. A friend gave me one of these years ago and it is still my favorite bookmark ever. Yes, you do have to stop knitting momentarily to turn the page, but it's worth it.
A Project To Facilitate Reading While Knitting:
We all want them; those projects requiring so little attention that we can focus without worry on our favorite TV program, or keep our hands busy on a long car trip but still be able to make conversation with the driver, or occupy us during a long flight (but allow us to ignore a snoring seatmate).
As it happens, I am working on one of those right now, made out of this gorgeous laceweight slubbed tsumugi silk from the geniuses at Habu: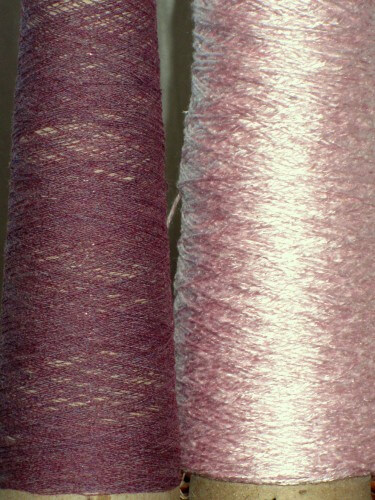 I'm picturing something drapey and fluid, a tunic perhaps. Knit on large-ish needles (US size 6 or 7?) to render the finished garment translucent and cool. Gathers or ruching or smocking; whatever the fabric demands to create a sense of movement and simple elegance. Let's see what I come up with.
I'll be on vacation next week, and have already warned my family that I might not join them for every single activity: the zipline tour/swim with dolphins/sunset cruise (well, maybe just not the zipline tour…) kinds of things, so that I can simply relax (now there's a novel concept). Lie around, free up my imagination, play with this silk, and see what happens.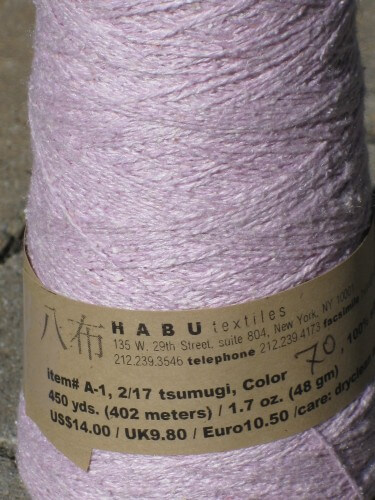 Yum.