Earlier in the week, we took a look at the unassuming beginning of the Habu Goddess Tunic. Two long pieces of stockinette in Habu's Tsumugi Silk, bordered at each end with deep swaths of Wool Stainless Steel carried with Kusaki Zome Silk. Each length measuring 60″ long by 18″ wide when blocked, they could easily be repurposed as a pair of ephemeral scarves.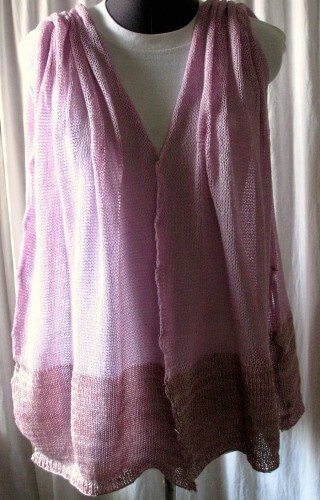 But look what happens when we begin adding definition to these simple lengths of stockinette by pinning them strategically together. Gathers at the shoulders add delicate ruching and lend a hint of modesty to the fabric's sheerness. Flattering shapeliness and drape begin to take form. Our curiosity is aroused; how else will these two pieces of fabric come together?
Suddenly it becomes clear. The gathers and pins work together to create a classic silhouette. The deeper-toned border gives the design a bit of weight, a feeling of substance that plays nicely off of the body's transparency.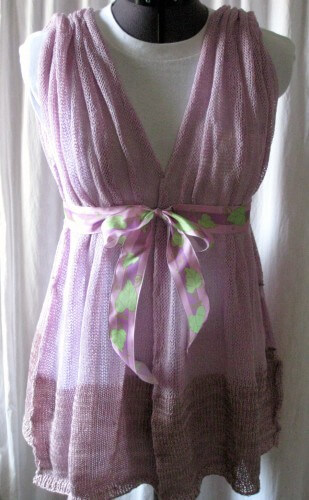 A delicate ribbon tie under the bust provides just the right touch of embellishment to make this tunic appropriate for dinner out, or an evening at the theater. Greek tragedy, anyone?