A few posts ago, I posed this question: Are you a knitter who enjoys reading while you knit? Do you take your knitting to the movies and click away in the dark while the film rolls? When you go out for a meal with friends, are you knitting even as you wait for your food to arrive?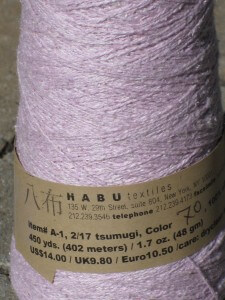 Stockinette Rules For Knitterly Multi-Tasking
For knitting under these circumstances, I've always preferred an easy project that doesn't require too much of my attention. Stockinette is in many ways ideal; on its own with no multi-tasking, it can be the ultimate bore. But when my attention is divided and I need to focus visually on something else, stockinette is just the thing.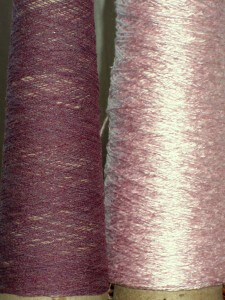 Habu Love
These gorgeous fibers from Habu entered my stash at Stitches West this February. Tsumugi Silk with its slubbed perfection, Wool Stainless Steel in all its tensile glory, and Kusaki Zome  with its gorgeous sheen and dry, crunchy hand. Oh, how I love them. The clean orchidacious colors are the icing on the cake.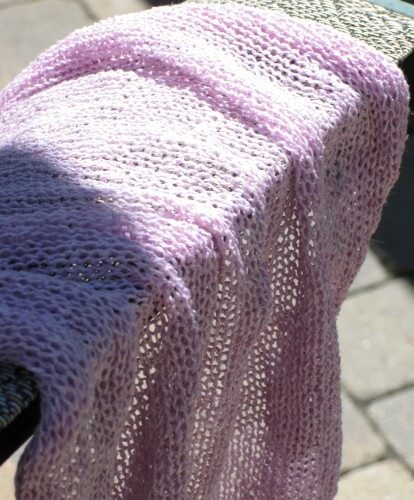 The fibers themselves are so interesting that I didn't want to use them in a project with complicated stitches or texture, although they would certainly work well enough for those pursuits. As I thought more about my Knitting-While-Reading project, the Habu yarns captured my imagination and wouldn't let go. I decided to work with them on a larger needle than their fine gauge might suggest; in this case, a US size 6. With yarn so fine, the airy openness of the Stockinette stitch is lovely.
Simple But Effective
Elegant Simplicity became my mantra. I wanted a simple project, but not quite as straightforward as a scarf. The photo below might suggest that this is exactly what I wound up making, but that assumption would be wrong. With enough of the Habu yarns to make a garment, I set my sights a bit higher. Taking advantage of the knitted fabric's wonderful soft drape, I settled on the idea of gathers. Simple construction to be sure; the tunic will be made up of only two pieces cleverly assembled with seaming and ruching that takes advantage of the fabric's best qualities.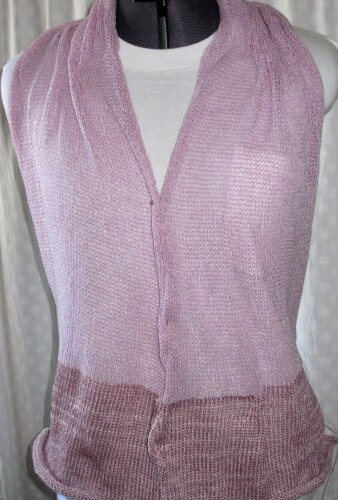 Stay tuned! This is a vacation project that I'm knitting while reading, and it will be completed upon my return next week!