Here's a peek at a couple of things I've been working on this month that are not yet for public consumption. Elann.com's Lana Pura is 100% Tasmanian Wool, and has a delicious springy softness. I bought a couple of bags after Bonne Marie mentioned it in her blog, and have not been disappointed. It knits up nicely on US size 5 needles, or doubled on US size 8s. It's available in a lovely range of colors, but I gravitated toward the natural ones; upon close inspection, each skein has delicate, tweedy color variations that are not evident from a casual glance.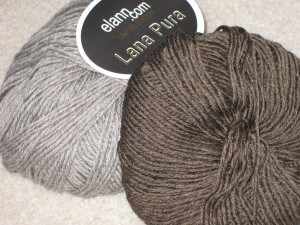 Working with Sundara's yarns is always a pleasure, and her Aran Silky Merino is one of my perennial favorites. Although I tend to gravitate toward her clear, brighter palette, this moody and dramatic crushed merlot shade: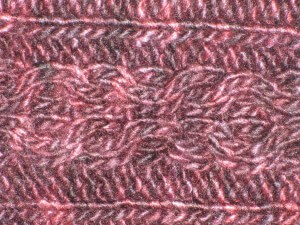 inexplicably called out to me. I had to buy a couple of skeins even without a specific project in mind. She does such dark, complex shades particularly well. The woman is a yarn-dying zen master (mistress…). When I first opened the package containing this yarn, I literally gasped because it was so beautiful, full of depth and the subtle sheen of the silk fiber. Now, after much thought, I have designed a specific project (two, to be precise) for this yarn and am hard at work. More later.