Despite an annoying lack of cooperation from my cranky, stiff, crampy, in-need-of-R-and-R fingers, there are a few projects in the works – more than I usually work on simultaneously given my inborn tendency, supposedly the fatal flaw of all Geminis, to get quickly bored and just cavalierly toss the incomplete projects into the "mañana" pile, never to be seen again not always to finish what I start. This scarf is nearly done – just half of the second ruffled edge remains, and then off it goes to my friend Diane in Washington in time for the holidays. This yarn, Classic Elite's Cashsoft Baby DK, is absolute heaven to work with – soft, soft, soft. And the color, palest celadon, is gorgeous – much more calm and subtle than those I normally choose, making this project a restful and enjoyable departure.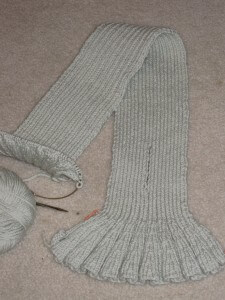 Yes, I succumbed to Lemming Syndrome, and am knitting myself a February Lady Sweater along with every other knitter on the planet! I finally decided that since the rest of the knitting world seems to have made this baby, there must be a good reason for its enduring popularity. Sure enough, it is quick (for anybody without my hand and finger issues, that is), has an easy-to-memorize lace pattern, and when working with the right yarn, it feels so good to see it taking shape exactly according to plan. Fleece Artist's hand-dyed, 100% merino Organic Wool is a joy to knit with; squishy and blissfully soft. And you know me – the brighter the color, the happier I am; it's the magpie in me for sure. This deep, juicy berry shade caught my attention at Santa Barbara's darling shop Loop and Leaf, so much so that two skeins leapt into my tote bag and demanded to come home with me.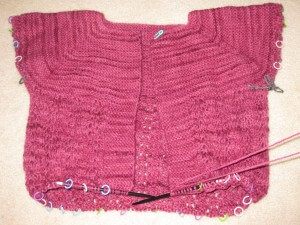 I knew as soon as I saw it that it was destined to be my February Lady Sweater.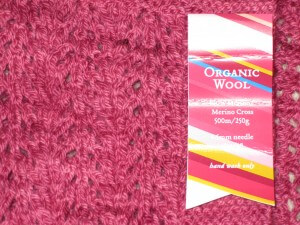 I'm still getting comfortable with the new knitting machine, and this cardigan is my first experiment. It is double-breasted and will have elbow-length sleeves, as well as a drapey, swirly collar, and possibly pockets once I figure out the best kind to use. The back, fronts, and sleeves knit up breathtakingly fast – within three days, I was done. Stockinette goes pretty quickly anyway, but this was unlike anything I've evern seen. That yarn went through the carriage like the proverbial hot knife through buttah, and before I knew it even the back was done, shaping, decreases, and all. Amazing!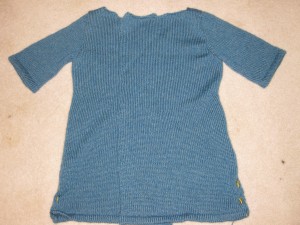 Set-in sleeve shaping: easy-peasy!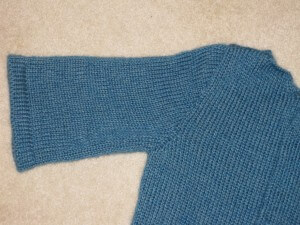 Nifty technique for turned hem: slows me down a tidge, but the end result is so worth it.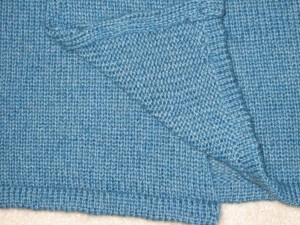 So yes, a whole lotta knittin' goin' on, just in case you suspected otherwise!