I have not been a tourist in Washington, DC in many years. Although I lived in and around that city for a total of seventeen years in the '80s and '90s, I have not had reason to return until recently, when a dear friend had one of those big birthdays that deserve to be celebrated. This has been a banner year for our friendship, in that we've seen each other three times, after many years when all we managed to do was exchange letters, emails, and the occasional phone call.
The first time we got together this year was after she had a brain tumor removed. Florence Nightingale that I am, I went to help out for a week. Then, this spring, I was stranded overnight in DC due to bad weather (thanks so very much, Continental Airlines!) on my way up to a tiny regional airport in NY… the perfect excuse to couch-surf in her cozy apartment and share an impromptu visit. But this time, we were able to walk everywhere, playing tourist in the cool but humid October days.  Ate some fabulous meals, chiefly at the Old Ebbitt Grill (where, among other delicacies, I had some wondrously fresh raw oysters) and Sequoia down at the Washington harbour – the latter of which was the site of the Big Birthday Dinner:
These chandeliers at Sequoia had to be twenty feet tall, managing to be both sculptural and illuminating: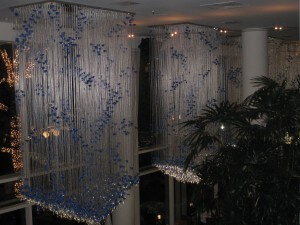 The leaves were changing dramatically enough to thrill my autumn-color-starved eyes: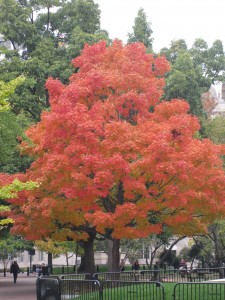 The White House is more barricaded than ever but just as lovely and impressive once you slip your camera between the iron fence rails for an unimpeded photo opportunity:
We also toured the National Holocaust Museum, which I found extremely difficult to see, yet unforgettably moving. While certainly not a cheerful way to spend two hours, the Holocaust remains arguably the most compelling historical event of the 20th century. An entire museum dedicated to preserving its memory is not too much to ask. Even the busloads of schoolkids touring it with us seemed to take it seriously. The United States behaved shamefully during the war, I am sorry to say; our government's leaders knew full well what was happening to the European Jews, yet did almost nothing to help them until it was too late.
An antidote was to be found at the public garden at Dumbarton Oaks. It was a breathtaking place to spend an afternoon, tramping through the wild yet manicured grounds. We had the place practically to ourselves – and around every corner was another wonder of casually calculated "natural" beauty: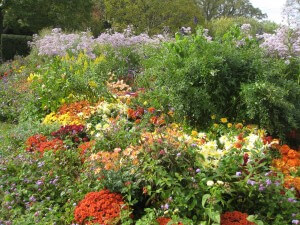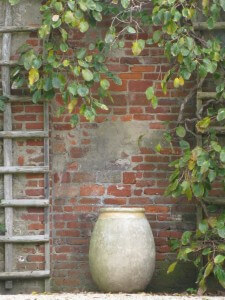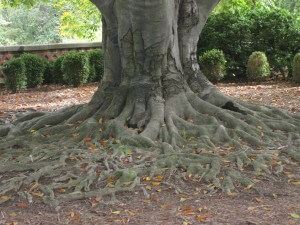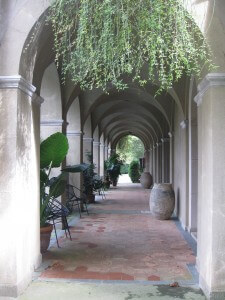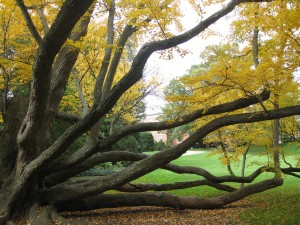 By the end of the weekend, I was ready to move back.