A friend came over today and helped me turn this: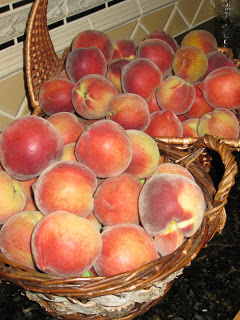 into quite a bit of this:
Three different flavor combinations, to be exact: Peach-Ginger Marmalade, Tropical Peach Jam (with flaked coconut), and plain Peach Jam with both yellow and white peaches. Plenty to share, and plenty for us to enjoy.

And yet there are still plenty more of these both in baskets and still on the tree. I have a feeling my peach jam-making days are not yet over for the season.