The next few posts will come to you from Maui, where we are spending a few days of R & R after surviving (Okay, yes, it was wonderful and poignant, but still – not to mention this is our final pre-college vacation with her, and who knows where she will end up on future school breaks?) my daughter's high school graduation. One of the great things about living in California is that it's not too grueling to travel to Hawaii from the west coast. And since we picked up 3 hours en route, it felt like we had an extra-long day even on the day of the trip itself. And I got some work done on the French Child's Socks during the plane ride, much to the amusement of my seatmates: "How many needles are you using? Gosh, those are tiny…" (4)
This is the oceanfront view from our lanai (known as a balcony when you're anywhere but Hawaii), which wraps all the way around the corner condo we rented. It's incredibly windy here, and listening to it howl all night was truly splendid!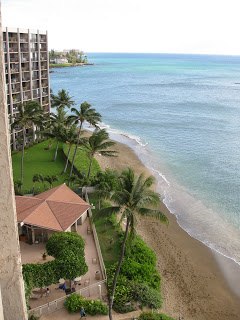 I miss "extreme" weather in our beautiful-but-bland little suburb at home, where even the legitimate fear of earthquakes is tempered by a general and somewhat weird air of self-satisfied well-being. Californians are surprisingly blinkered about the devastating potential of earthquakes; I guess that attitude is not completely unreasonable given that we never know when the next one will strike. Who wants to live their lives in fear of nature, especially when they live in this stretch of the country by choice?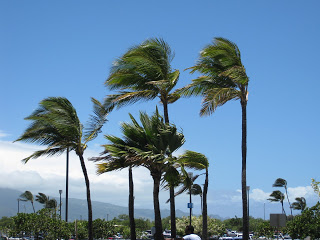 What did I just say? Windy, windy, windy.
Our final view from the lanai after a late dinner was of this gorgeous sunset over the ocean: