Announcing the arrival of my Guinevere Evening Cardigan pattern, available for sale through my Ravelry store and on this site over to your right in the sidebar under "Patterns For Sale." The pattern was expertly and oh-so-patiently tech edited by the lovely Shiri Mor.
Remember Guinevere? As cardigans go, she is as lovely and comfortable as can be (if I do say so myself). Her fitted bodice and body-skimming drape flatter a wide variety of body types, and although many other yarns would make suitable substitutes, it was a complete delight to knit up the sample in Sundara Yarn's Aran Silky Merino. I cannot say often enough how luxurious that yarn is, and how gifted Sundara's color sensibility is.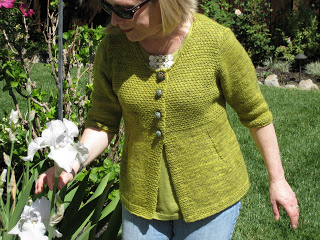 And of course, if you are a bit of a button fiend, Guinevere offers an unbeatable opportunity to raid the button stash for the ones that will add the perfect complement to the design.
For the 34″ size, I used 4.5 skeins (at 200 yards each) on size 7 needles. So if you've been wondering what kind of garment will do justice to your own skeins of Sundara ASM, perhaps Guinevere is the answer to your prayers.