Yes, I've been bad. Very, very bad. Not a single post in more than a week bad. And it's not as if there's nothing to report. There's the usual garden activity – even more than usual now that the latest week of rain has ended and sunshine is bringing all the blooms out.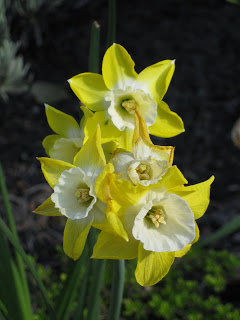 The last of the daffodils and narcissi are hanging out in clusters as if there's safety in numbers. I haven't picked any to put in vases around the house this year; their fragrance indoors sets off my allergies. Better to enjoy them outside.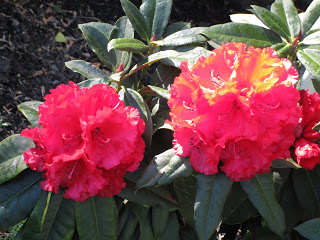 And the old rhododendron that I pruned back drastically two years ago has finally decided to embrace its re-shaping. Its blooms are spectacular this year.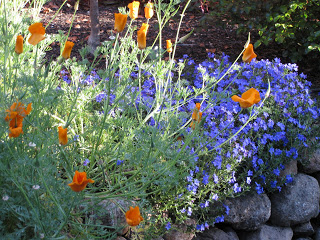 California poppies have sprung up all around the front garden, but are nowhere are they as glorious as they are beside these deep indigo carpet flowers that spill over the moss rock wall. This is what I think of whenever someone talks to me about colors "popping."
But more than that, there's a nearly-FO to share. I say nearly because it lacks only snaps down the inside of the front before I can sew on the buttons and wear it out in public.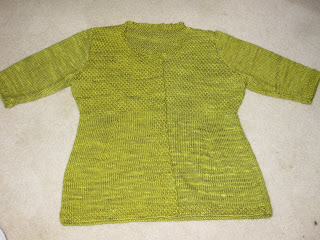 And this one is a perfect fit. My measuring and calculating and misting and blocking paid off, and the Guinevere Evening Cardigan is a winner. From the elbow-length sleeves to the vibrant yarn itself,
Sundara's Aran Silky Merino "Green Tea"
color, I can't wait to wear it.
I love everything about it, from the inset waist shaping that adds a design element to the stockinette body in both front and back: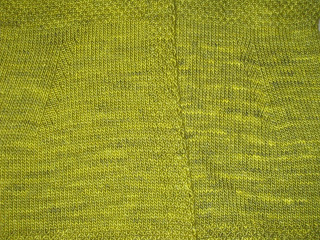 I am obsessed with the spot stitch employed for the upper bodice, which looks like a variation of seed stitch but is, to my eye, so much prettier. And I love the delicate finishing touch of the picot edge around the neckline.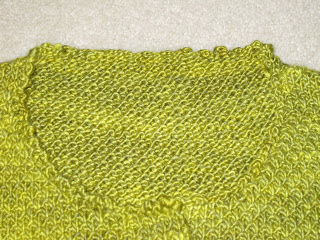 Now all that remains is to sew on the buttons and take some modelled shots: this week's task.