Now that I've finished admiring my own handiwork in the latest issue of Twist, I've gone back through the rest of the patterns and decided that this issue is the best one ever! When I can't make up my mind about which project to download first, and when there are fewer designs I probably won't want to make than there are designs I definitely, absolutely must queue up immediately, that ratio suggests **winner** to me, big-time. At the moment, these are my top three:
I love all the shawls and wraps in this issue, but the Abrazo shawlette by Susanna IC really captured my heart; I picture wearing it all summer either draped lightly over my shoulders or wearing it twisted as a wrap in my hair. Love the beading, love the open fabric, love the deep lace border. Any number of skeins in my stash of Sundara laceweight yarn would be well-suited to this project, as would the Woollen Rabbit laceweight, the Fearless Fibers laceweight….. maybe I'll just have to make more than one version of it!
Poplar & Elm by Carol Sunday is a masterpiece of lace, feminine shaping, and stylishness. I love everything about it, and have a few different yarn options that would be lovely for it.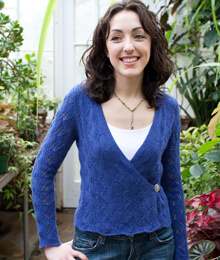 When I first saw the fabulous Timpani by Connie Chang Chinchio, I thought immediately of my stash of Elspeth Lavold's Silky Wool, and of wearing it in the fall here in California, where that fiber blend is perfect for the climate. I just love the crisp military styling of this jacket, and although I might have to do a bit of regauging to accommodate the yarn weight (although knitting it on slightly smaller than recommended needles would give the fabric more stability), it would be worth the effort to have such a snappy garment hanging in my closet.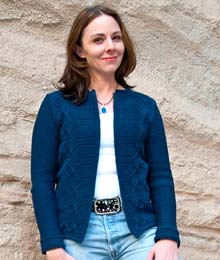 So, no shortage of possibilities in this issue. Paging through the options makes me appreciate all the more the good company in which I find myself. Comments on Ravelry regarding my Passiflora tunic have been interesting and enlightening. Some readers don't like the thought of their bras showing through a garment and will consider omitting the side lace panels as a result. Some don't think the A-line shaping flatters their figure type, and are likely to add waist shaping to their version of the design. Since I modify nearly every project I knit that has been created by other designers, I can hardly protest when others see fit to alter mine – in fact, it's this kind of dialogue, this realization of knitting's infinite possibilities, that makes the craft so intellectually challenging, creative, and fulfilling.